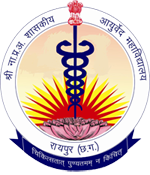 The Principal
Shri Narayan Prasad Awasthi Govt. Ayurved College
Raipur – 492010, Chhattisgarh
Phone:
Email:
Website:
0771-2263396 (College)
0771-2263244 (Hospital)
ayurvediccollege@gmail.com
www.gacraipurcg.in
LOCATION
Shri Narayan Prasad Awasthi Govt. Ayurved College is situated at the G.E. Road towards Bhilai- Durg in the heart of the Raipur City. It is well surrounded by the renowned institutions like NIT Raipur, Nagarjuna Science College, Raj Kumar College and Pt. Ravi Shankar Shukla University. The Landmark is opposite of International Swimming pool, Central Library & nearby Sardar V. B. Patel International Hockey Stadium
HOW TO REACH
By Air: Swami Vivekananda International Airport, Raipur is connected to the cities of Calcutta, Delhi, Chennai, Mumbai, Hyderabad, Indore, Ahmadabad and Nagpur through regular flights. It is situated in the South-east of Raipur and 25 Km distance from college.
By Rail: Raipur is a divisional office of South Eastern Central railway zone, Bilaspur, which is directly connected to Delhi, Bombay, Calcutta, Chennai, Hyderabad, Nagpur, Bhopal, Kerala, Bhubaneswar, Guwahati, etc. Raipur Jn. Railway station is 5 Km distance from college.
By Road:Raipur is situated on the national high way of six and linked with Bilaspur, Raigarh, Rajnandurgoan, Durg, Ambikapur and other places. Inter-state bus services operate daily between Bhubaneswar and Nagpur.