College Infrastructure
The institute is spread in a huge 89.3 Acres of lush green eco-friendly campus. The institute has separate academic and hospital block each having 2 storied and 3 storied building respectively. The institute has seven lecture halls and 02 seminar hall equipped with audio visual facility. Other amenities are separate boy's and girl's hostel, central library, sports ground, canteen and residential quarters. The college and hospital are electrified with solar energy system.
Section
| | |
| --- | --- |
| Total land Area | 89.3 Acres |
| Area of the Herbal Garden | 52800 Sq. Meters |
| Constructed area of College | 3350 Sq. Meters |
| Constructed Area of Hospital | 3612 Sq. Meters |
Shri Narayan Prasad Awasthi Govt. Ayurved College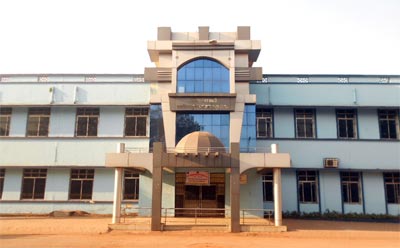 The institute is currently running a graduate course (B.A.M.S.) with annual intake capacity of 60 students , M.D. – Ayurveda/M.S. – Ayurveda course with annual intake capacity of 29 students and paramedical courses (Pharmacist Ayurveda and Panchakarma Sahayaka) with annual intake capacity of 60 students. It is functioning in aesthetically designed building. The institute is affiliated to Ayush & Health Science University Chhattisgarh, recognized by Central Council of Indian Medicine and approved by Department of AYUSH, Govt. of India. The college are well-equipped with laboratories, dissection hall, demonstration hall, classrooms, seminar hall, museum, herbal garden, yoga and meditation centre, canteen, drug testing laboratory, pharmacy, offices, residential quarters, play ground, dispensing unit, NSS unit, College union. and a well flourished library with enormous collection of books from various sciences with large reading hall facility, in addition to the libraries established in individual departments. All together 14 departments exist and 11 departments among them are having Post graduate facility. The College has separate hostel for girls and boys.
Hospital O.P.D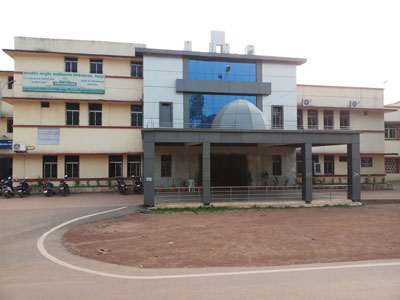 The 160 bedded Shri Khudadad Dungaji Govt. Ayurved Hospital attached to the institute and is providing health services through its highly skilled and experienced doctors. The hospital has nine functional OPD's of different specialities like
Kayachikitsa
Panchakarma
Prasuti and Stri Roga
Kaumarbhritya
Shalya Tantra (with Ksharasutra lab.) Shalakya-Netra
Shalakya-Mukha, Nasa & Danta Swasthavritta & Yoga
Atyayik (Causality).
Since its inception the hospital has developed an environment where the original Ayurved therapies are administered in contemporary infrastructural facilities. The hospital is well-equipped with casualty management centre, X-ray, E.C.G, U.S.G., Panchakarma therapy, Kshartasutra therapy, operation theatre, central pathological laboratory, physiotherapy, surgical, maternity, paediatric and yoga sections, canteen. The hospital has nine functional IPD's of different specialities like
Kayachikitsa
Panchakarma
Prasuti and Stri Roga
Kaumarbhritya
Shalya Tantra
Shalakya.
All services are economically priced. The medicines used in the hospital are from Govt. Pharmacy, Raipur (C.G.). The patient admitted get homely environment in the hospital and are taken care by the trained, experienced and friendly nursing staffs. The patients of the indoor section are provided with health food as prescribed by their doctors keeping in view of dietary regimen described in Ayurved text. 59% bed occupancy is occupied in indoor section almost throughout the year. The institute organize medical camps and health check up programme in nearby villages and slum areas to provide medical facilities to the suffering patients at their door steps.Ambulance facility is available to transfer to other hospitals or meet any emergency situation.