Dear students and parents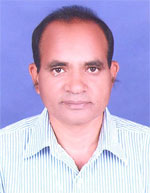 Welcome to Shri Narayan Prasad Awasthi Government Ayurved College, Raipur, Chhattisgarh, which has been started with a vision to build a centre of global excellence in quality Ayurveda education by preserving, propagating and developing evidence based knowledge of the disease through quality teaching, medical care, training, research and link between tradition, science and technology to focus on the potential inherent for future. This institute started as Ayurvedic School by the former Chief Minister Late Pt. Ravishankar Ji Shukla in 1950, to give people benefits of healthy lifestyle and cure of diseases by renowned & holistic ancient system of Ayurveda. Presently the institute and hospital are spread in about 89.3 Acres of land under two major establishments i.e. Shri Narayan Prasad Avasthi Govt. Ayurved College and Shri Khudadad Dungaji Govt. Ayurved College Hospital, which is attached with college. State level Govt. Ayurvedic Pharmacy and State Drug Testing Laboratory (ISM) are functioning in this campus.
The Ayurvedic School was named as Ayurvedic College and the students were being awarded 5 years degree course i.e. Bachelor of Ayurved with Modern Medicine and Surgery. Ayurveda Vachaspati (M.D.- Ayurveda) in Kaya Chikitsa course was started by the help of Central Govt. in 1972.
At present the college offers Under Graduate course, Post Graduate course in seven subjects and certificate programs under the faculty of Ayurveda. The campus is very rich and vibrant in terms of having impressive infrastructure, renowned and extensively experienced teaching faculty, hospital and research centre, having 194 beds and diagnostic facilities under one roof, the Internet facility, e-learning centre, electrified with solar panel system, 79 residential quarters, separate hostels for boys & girls and other facilities are at par with best campuses in the country.
The college aims a transforming the world of Ayurveda through quality education, approachable, accessible, appropriate, affordable, accountable and appreciable service in classroom teaching, clinical training and research and a big indoor hospital with most facilities, so that the commitment to centre of excellence is achieved. As a Principal, I take this opportunity to invite you to join our endeavour in shaping the bright future for Ayurveda, which a renowned and holistic system of medicine with an individually oriented approach. To learn more about us one can always browse or visit this campus, which represents the best traditional knowledge & contemporary excellence, where Principal will personally be there to welcome you.
With best wishes.
PROF (DR.) G. R. CHATURVEDI
Principal